Dual Suspension Mountain Bikes or Hardtail Mountain Bikes – Which is right for you?
The debate between dual suspension mountain bikes vs. hardtail mountain bikes has been raging since the first full suspension mountain bike appeared.
Do you want to know which is the best bike… a full suspension mountain bike or hardtail mountain bikes?
The answer…
…brace yourself…
…both!
Ok, ok, let me explain.
Hardtail mountain bikes and dual-suspension mountain bikes are both excellent at what they are designed for. You should have already worked out what you are going to use your bike for
If not then click back to see the different bike types and which you need
Hardtail bikes are the best… if…
You are riding smooth single track and need accurate response
You need good climbing ability
You want a lighter bike
You want pedalling efficiency (and to conserve your own energy)
If you are a XC racer who is after the biggest weight saving
Want a bike that is easier to maintain and keep in good working order
Are a dirt jumper who wants better pump off of jumps
Full Suspension bikes are the best… if…
You ride downhill
Go off jumps
Suffer from saddle-ass
Ride in rough terrain
Want an all round bike with less limitations
Want a smoother ride on the trail
Want a more comfortable bike
So what should you do?
Full suspension and hardtail bikes are made for different purposes so you should get what you want but get it for the right reasons
Full suspension mountain bikes are more expensive than hardtails. So if you can't afford decent dual suspension mountain bikes with reliable components then don't. You will be better off spending your money on hardtail mountain bikes with decent components and that will be reliable.
Bottom line… if you can afford it I would go full suspension mountain bike if not then spend the same money on a better quality hardtail with better spec components.
Want to Find Your Perfect Bike?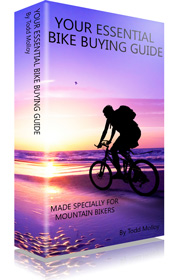 Want to buy a mountain bike? Then you must check out Your Essential Bike Buying Guide. It will take you step-by-step on the process of finding your perfect bike (and saving $$ in the process). Find out more.
Click next to continue to step 4 and decide on a 26″ bike or 29″ bike
Adam