Mountain Bike Buying – Your final step in Mountain Bike Buying
This is the last step of mountain bike buying – actually making the purchase. Yes that's right you are going to secure the deal and buy a mountain bike!
But first, if you haven't completed all the steps then click back to return to step 10 and make the most of your test ride.
You should now know:
How much you are going to spend (allowing for extras like shoes or helmet)
What bike you are going to get (and have read some reviews)
Where you are going to get it from
And when you are going to buy it.
The only thing left to do now is secure the deal and make the purchase.
If you are having cold feet (and even if you're not) then get your free "Bike Buying Facts" report (PDF). Read through it and make sure you can check everything off. If you follow all the steps in this guide you should understand all the questions and be able to answer them.
Done that?
Then feel safe in the knowledge that you have thoroughly researched your mountain bike purchase, and are buying it from a reputable company with good refund and warranty policies.
If you found this information useful then sign up to my newsletter (at the bottom of the navigation menu on the left) and stay upto date will all of the latest news and additions to this site
Want to Find Your Perfect Bike?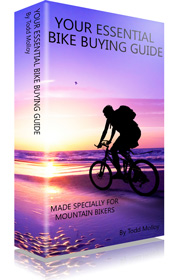 Want to buy a mountain bike? Then you must check out Your Essential Bike Buying Guide. It will take you step-by-step on the process of finding your perfect bike (and saving $$ in the process). Find out more.
Adam