Buy a Mountain Bike – Everything you need to know, to buy a bike and save your dough.
Want to buy a mountain bike? If so do you know the answer to all of these questions…
How to buy mountain bikes?
What size bike you need?
Are you going to buy new or 2nd hand?
How much are you going to spend?
Do you know what types of bike there are and which one is the best for you?
Where are you going to buy your bike from?
Where can you buy mountain bikes online?
What questions are you going to ask when you buy your bike?
Have you ever thought about building your own mountain bike?
If you answered "no" or "I don't know" to any of these questions then don't worry you can learn all the answers here.
Whether you are trying to buy mountain bike number 1, or bike number 10, this page has the information you need to help you along the way.
To get you started I have broken the process down into a number of steps. If you already know the answer to a particular step then simply skip it and move on to the next. To follow the full proven process read Your Essential Bike Buying Guide
HOW TO BUY A MOUNTAIN BIKE
Have You Considered…
Buying used mountain bikes. How and from where?
How to Thoroughly Inspect Second Hand Mountain Bikes
Women mountain bikes. What is the difference and do you really need one?
Searching for the top ten mountain bikes? Find out the myth behind top rated mountain bikes.
Want to Find Your Perfect Bike?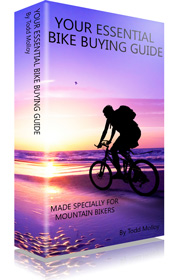 Want to buy a mountain bike? Then you must check out Your Essential Bike Buying Guide. It will take you step-by-step on the process of finding your perfect bike (and saving $$ in the process). Find out more.