Buy Mountain Bikes Online or at Your Local Bike Shop – Do you know where to buy mountain bikes?
Do you know where to buy mountain bikes? Should you buy mountain bikes online or should you go to your local bike shop?
A common question and both methods have their advantages. Let's examine them here.
But first, if you haven't done your mountain bike research then click back to return to step 8
Where to Buy Mountain Bikes? Your Local Bike Shop
Advantages
The best thing about buying a bike at your local bike shop is the service. This is 2 fold, both the service at sale time and after sales service.
If you are unsure about something or feel as though you need advice (although you shouldn't if you have followed this guide) your local bike shop can help you out and give you their opinion.
Disadvantages
That said, in my experience some shops will tell you what you want to hear in order to push the sale – this is definitely not in your best interest.
The main disadvantage of bike shops is choice. Many bike shops will either only stock 3 or 4 brands OR stock many brands but have a limited range of bikes available for each brand. If you take the time to properly research your bike purchase and find the bike that you want, chances are it won't be available at any of your local shops.
Free Service?
We then come to after sales service. Most bike shops will give you a free 2 month service (or thereabouts) for your new bike. This service is necessary to tighten up cables that have stretched with their first use and ensure your bike is working as it should.
Whilst this is a great service, any bike shop will happily take the bike you purchased somewhere else and for a small fee service it for you.
Where to Buy Mountain Bikes? Buy Mountain Bikes Online
Choice
The biggest advantage of buying a mountain bike online is the choice. I can guarantee you will be able to find the bike you want (if it is less than 2 years old) somewhere online.
Servicing
As I mentioned earlier, no bike shop is going to turn you away if you try to take your bike in for a service – no matter where you bought it (unless of course they are too busy). Not only that but follow some of these maintenance tips and you can perform your own bike service.
Convenience
Another big advantage of buying mountain bikes online is the convenience. Order it from home (or work) and get it shipped straight to your door! You can't get much better than that.
Price
Most online bike shops don't have to cover overhead costs like rent and utilities so they can offer you a bigger range of bikes at a cheaper price.
What should you watch out for?
If you don't go with one of the companies I listed below and decide on a different online bike shop then beware. The two main things to be careful of is postage and refunds/warranties.
Postage
Make sure your bike can be posted to your country and see how much it will cost. This can sometimes add a significant cost to your purchase.
Refunds/Warranties
Also check out the companies refund policy and warranty policy. They should offer you a no questions ask refund or replacement should you not be happy with the bike. Not only this, but if the error is theirs (like wrong product or damaged) they should pick up the return cost for you. If the return is because of you (you got the wrong size or similar) then it is almost certain you will have to pay for the cost to return the bike to them.
Where to buy mountain bikes online?
There are some very dodgy sites around so be careful. I have had some experience with a number of different online bike shops and have found the sites listed below to be particularly good to buy mountain bikes online.
All ship internationally and all of them have good refund and warranty policies.
Based in the UK this online bike shop has a huge range of products. As an added bonus, if you live in the UK and get to one of their retail shops, they will give you your first service free of charge.
Again based in the US, they have a great range of bikes to choose from.
Another US company that has an ok range of bikes. They usually have a few different bikes that the others won't sell.
Ebay
I'm sure everyone has heard about ebay. A respectable company with a huge range, buyer protection and some really good deals.

Shown below are some of the bikes for sale right now on ebay. If one of them interests you click on the bike to be taken to the live ebay auction (you can also click on the link at the bottom that says "View All Items" to see more bikes for sale on ebay.
You should now know where to buy mountain bikes. Buy mountain bikes online for cheaper bikes, greater convenience and a much larger choice. Buy at your local bike shop if you need someone to talk to.
Want to Find Your Perfect Bike?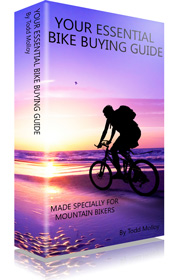 Want to buy a mountain bike? Then you must check out Your Essential Bike Buying Guide. It will take you step-by-step on the process of finding your perfect bike (and saving $$ in the process). Find out more.

Click next to learn the value of a test ride
Adam