Mountain Bike Prices – How much should you spend?
Mountain Bike Prices – How much should you spend?
When getting a new bike the 1st step is to work out your budget… but what are current mountain bike prices?
Good question. Let me ask you this – how long is a piece of string?
The answer: A piece of string is as long as you make it – and your budget will be as big (or as small) as you make it.
I am sure you have a rough idea in your head right now about how much you are willing to spend. To help you narrow down that idea and get it down on paper (and yes you should write it down and keep it clear in front of you – the point of a budget is to limit your spending, so if you are going to have one make sure you stick to it!) consider these facts…
You can buy a mountain bike for as little as $200 and as much as $10,000+
As with most things, you get what you pay for. As you spend more money your bike will get lighter, stronger, more reliable, better components, longer travel, more options and more adjustability.
To break it down for you I have summarised what you will get for your money on the scale below. Remember that this is a scale and if you pay a bit more you will get a bit more, pay less and you get less.
Hopefully you now have a budget in mind. Before you write it down remember that you will often need accessories when you buy a mountain bike. These may include a helmet, gloves, shoes and cycling shorts. These items will all add to your bike's purchase price so include some extra in your budget to cover them.
Want to Find Your Perfect Bike?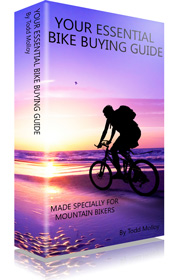 Want to buy a mountain bike? Then you must check out Your Essential Bike Buying Guide. It will take you step-by-step on the process of finding your perfect bike (and saving $$ in the process). Find out more.
Click next to continue to step 2 and work out your bike type
Adam