Mountain Bike Repair Tips – top tips to setup your home workshop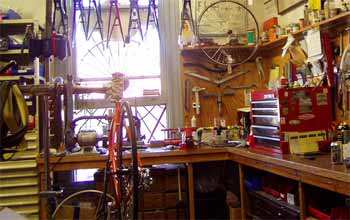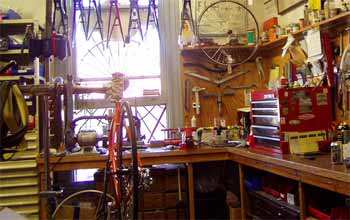 Follow these top mountain bike repair tips to setup your very own home bike workshop…
…following a number of horror story experiences when dealing with a couple of local bike shop "mechanics" I decided to do as many of my own bike repairs as possible. This way if I stuffed it up, I would have nobody to blame but myself… and at least I could learn from my mistakes.
It wasn't long after starting to do my own bike maintenance that I realised I was going to need a dedicated space to do so (and the missus didn't really like finding chain links and bolts soaking in Tupperware containers all around the house – but that's another story 😉
Mountain Bike Repair Tips #1
Choose a site or a dedicated spot where you can do your maintenance and repairs.
It is important when choosing a site that it is both well ventilated and well lit.
I happened to find some space in my shed with a nice window and then hooked up some fluorescent lights from the roof
Mountain Bike Repair Tips #2
Set up benches and shelves to store stuff and do some work on.
I had a look around the tip and found some old cupboards and a bit of timber to make my own benches. When installing benches make them about 900mm from the ground to be able to work comfortably at them (depending on your height of course)
Cupboards with lots of drawers are a great way to store all those bit and pieces which tend to accumulate in a workshop
Mountain Bike Repair Tips #3
Get ready for tools by setting up a pegboard or other tool holder on the wall. Another good substitute is some MDF or particle board. Whack some metal hooks (or nails) in it to hold your tools and your just about done.
Mountain Bike Repair Tips #4
Make it yours by hanging your favourite mountain bike posters or whatever you want. A comfortable workshop is a used workshop – and that's the reason we are doing this right?
Mountain Bike Repair Tips #5
Kit your workshop with gear. Although there are some rare exceptions, when it comes to bike tools, a general rule is that you get what you pay for.
Poor quality tools can ruin your parts (or worse – injure yourself)… get the best you can afford. Quality tools will work consistently time after time and will last a lifetime.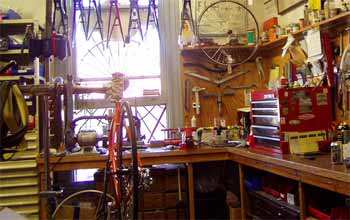 Click next for the essential tools and gear your workshop must have