Mountain Bike Reviews – All the bikes from all the bike manufacturers
The mountain bike reviews section is all about exploring and explaining, reviewing and rating all the bikes from all the manufacturers. This section is only about bikes. If that is not what you are after then check out reviews on bike parts and also reviews on bike accessories.
Bike Ratings
For every review you will be able to judge the bike on 3 bike ratings.
The 1st rating is on the bikes price and is out of 5. A very low price will give the bike a 5/5
The 2nd rating is on the bikes performance/components. A bike with good performance/components will receive a 5/5
The 3rd rating is an overall rating. The overall rating will be worked out according to the table below. You can see that only the best bikes will receive a 10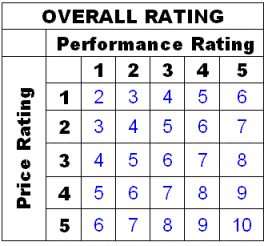 Find Bicycle Reviews
There are 2 ways to find the bike reviews you are after.
Search by Mountain Bike Manufacturer
| | |
| --- | --- |
| | 2 Stage – AM8 |
| | Cannondale MTB |
| | Diamondback MTB |
| | Gary Fisher MTB |
| | Giant MTB |
| | GT MTB |
| | Iron Horse MTB |
| | Kona MTB |
| | Mongoose MTB |
| | Norco bikes |
| | Raleigh MTB |
| | Specialized MTB |
| | Trek MTB |
Search by Category
All Mountain